TRANSLATE THIS PAGE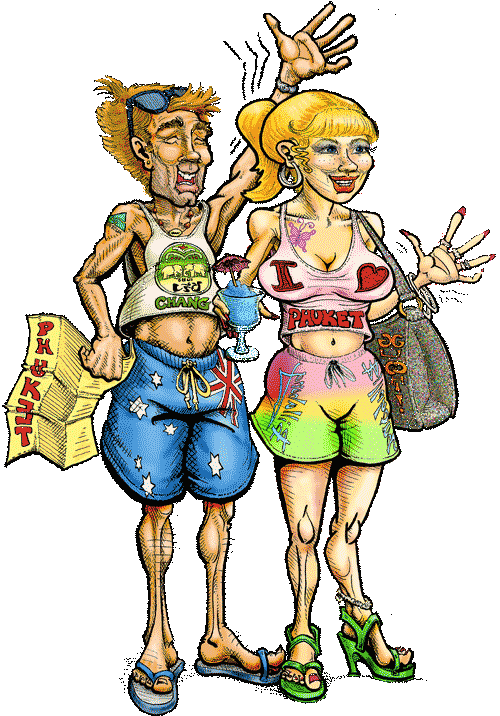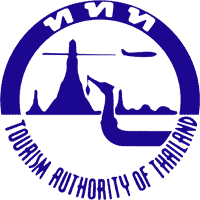 TOURISM AUTHORITY OF THAILAND
TAT LICENSE 33/05201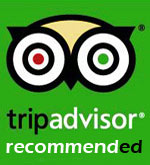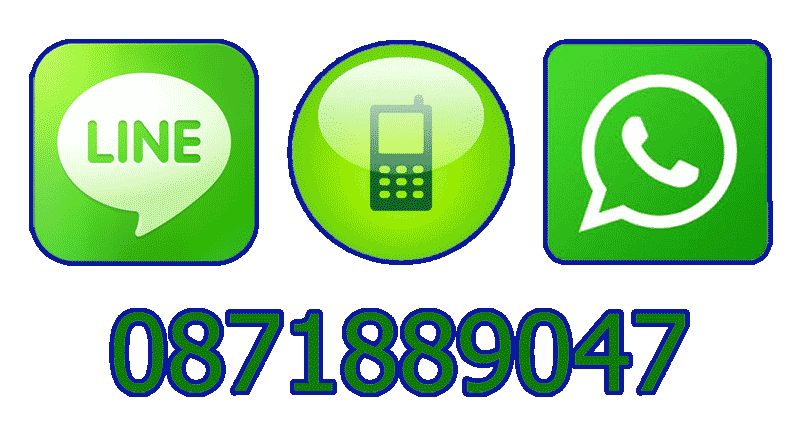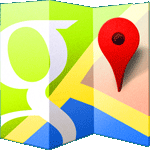 PHUKET TRAVEL & TOURS, PATONG
Phuket Travel and Tours are pleased to announce we are now licensed to operate online. You can now book and pay for tours, shows, and transfers before you leave home.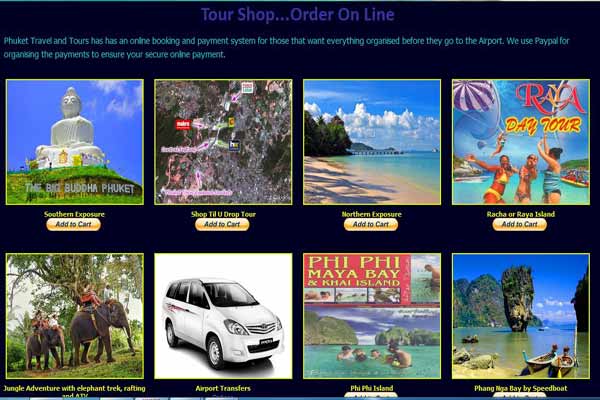 Phuket Travel and Tours has a Scooter Rental company called Cheap as Chips Motorbike Rental. The head office for both businesses is in a hard to find lane off Prabaramee Road. The GPS Coordinates are 7.905455, 98.298736
Phuket Travel and Tours has 7 Tour Counters or Tour Booths around Patong. Patong Beach is the main Tourist Beach and has lots of buzz, nightlife, shopping, restaurants, as well as a good beach. If you need any more tour information or Tourist Advice, please drop in and see us.
Our latest Tour Kiosk or Tour Shop is on Ratuthit Road, opposite the Paradise Complex, look for the Shazza and Waz Cartoon on the signs.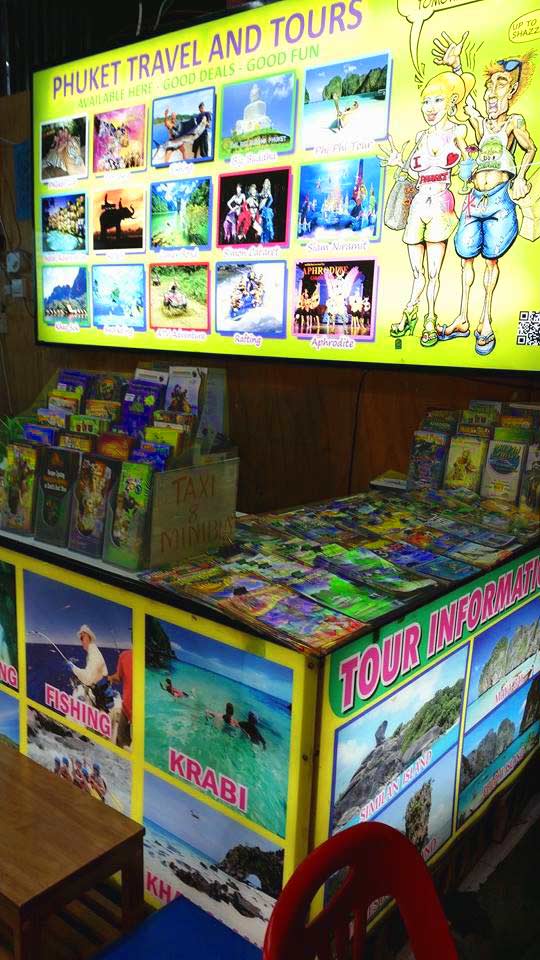 Booking Airline Tickets when already on holiday is a pain. Want to whiz up to Bangkok, Chiang Mai, Udon Thani, Koh Samui?
Phuket Travel and Tours are able to help. We can book all your flights. Drop in to a Tour Counter to organise it.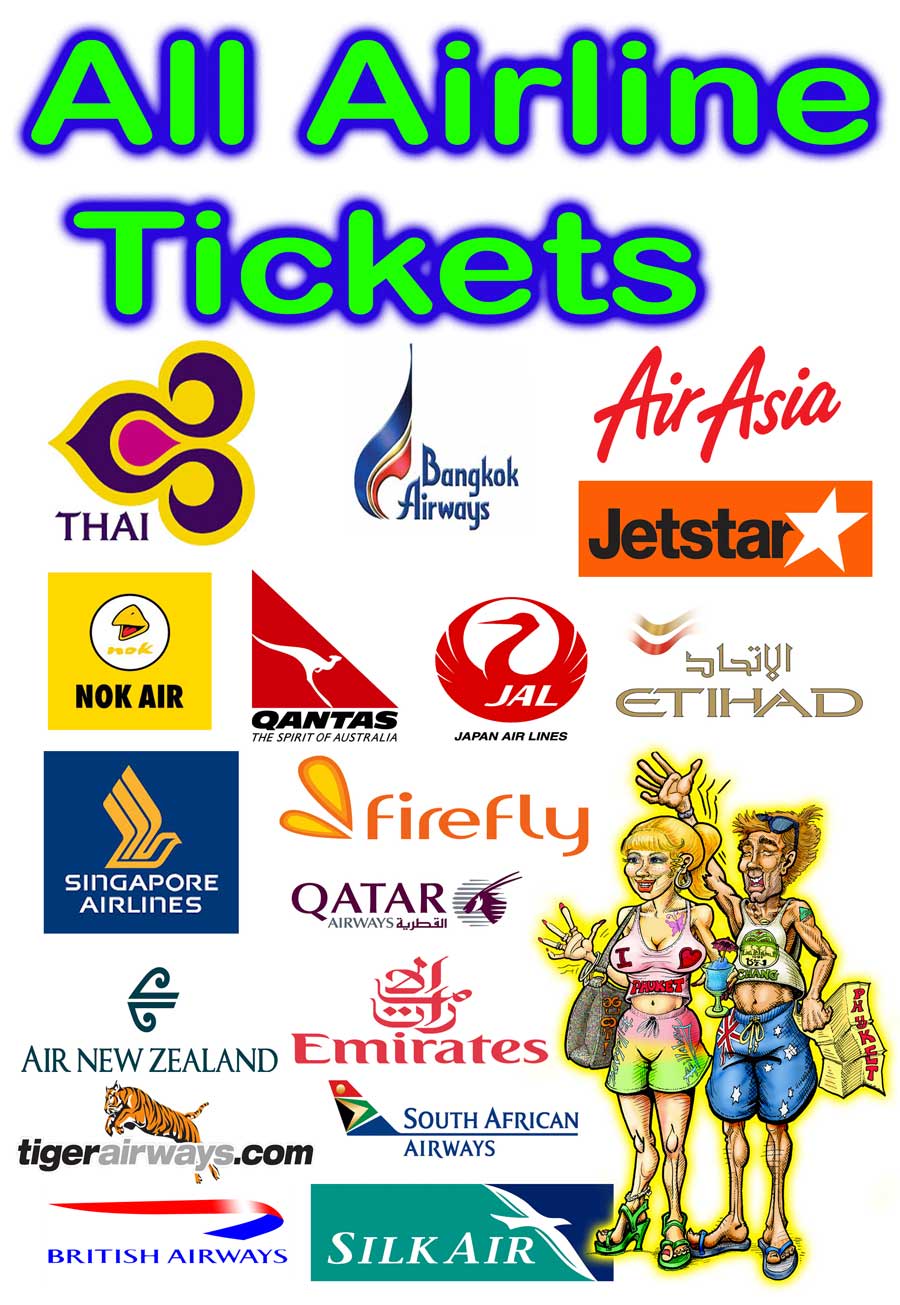 We are able to offer Taxi and Transfer services at a competitive rate. Our drivers are safe, reliable, and friendly. They have good knowledge of Phuket and will be able to suggest great places to explore during your holiday of a lifetime.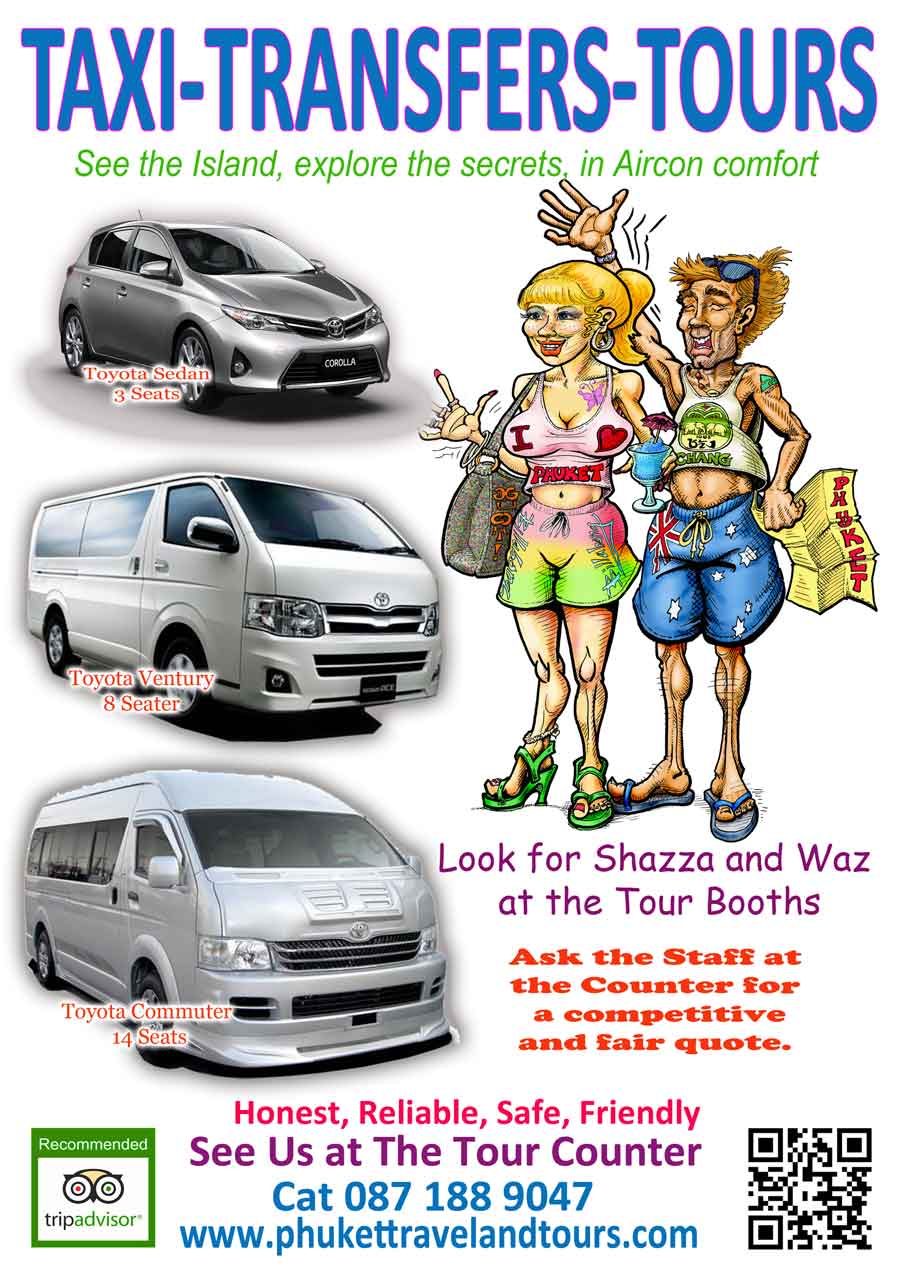 Phuket Tours has had a wonderful weekend thanks to our "likers" and supporters. We have reached 20,000 Facebook Likes. We are all extremely grateful to all of our friends around the world. To make our business successful we need guys like you. Thanks all again. Click the picture to open our Facebook Page.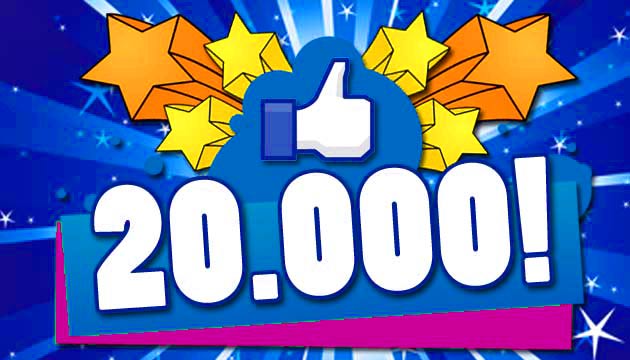 New Tour Counter, Tour Kiosk, Tour Booth, Tour Sales has opened on Beach Road.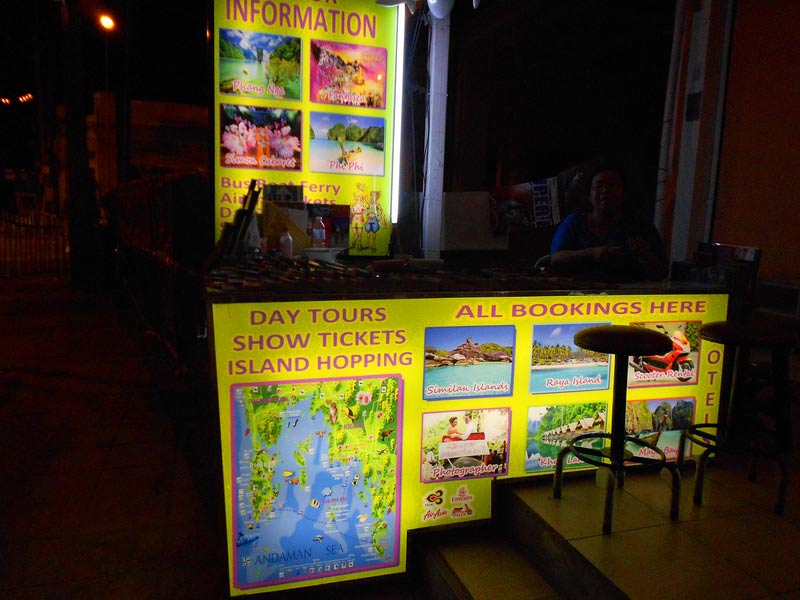 Address is 188/7 Thawewong Road or Beach Road, corner with Soi Hat Patong, Patong
Across the road from the Football Pitch
GPS Co-ordinates are 7.900118,98.297105
New Tour Counter, Tour Kiosk, Tour Booth, Tour Sales has opened on Rat-u-thit Road, on the corner of OTOP Market.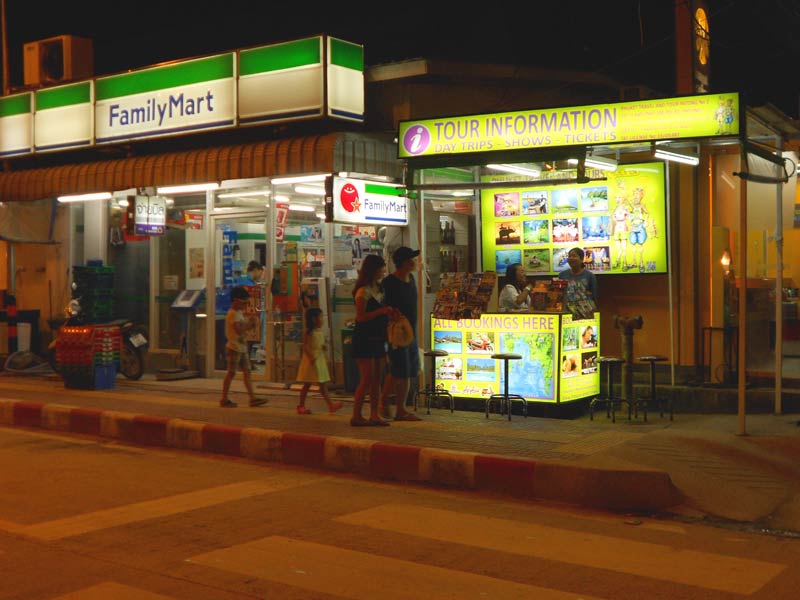 Address is 237/1 Rat-u-thit-200-pee Road, Patong
GPS Co-ordinates are North 7.888147, East 98.295439
Drop in and say Hi!!!
Shazza and Waz Logo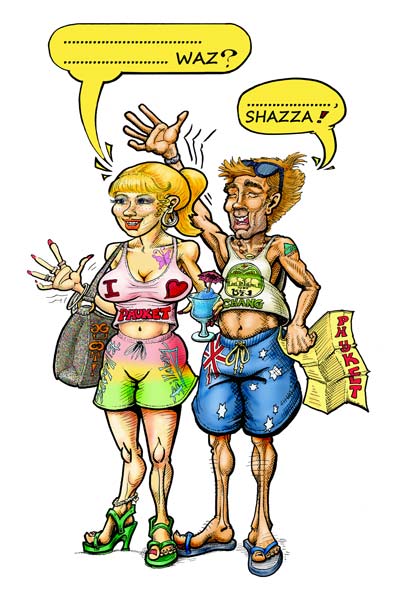 Look out for Shazza and Waz around town. If you see this logo, you have found one of our Tour Counters or Tour Booths as some call them.
Another Tour Counter is about to be opened. It will be on the Corner of Ratuthit Road, Patong and OTOP Market Road.
Watch this space in the next week.
Phuket Travel and Tours new Tour Counter is at 237/1 Ratuthit 200 Pee Rd, Patong, Phuket 83150

At Phuket Travel and Tours, we organise
tours, day excursions, package tours, sightseeing tours, day trips
and anything Travel related for your holiday in the
world's favourite beach holiday destination, Patong Beach, Phuket.

The company, Phuket Travel and Tours, has seven Tour Desks, Tour Counters, Tour Booths or Kiosks in Patong
and are easily accessed from your Hotel.
NO Hassles.....NO Scams.....Great Professional Service




Take a tour around the site.
You will see some great activities to do to make your break lifes most memorable.
About Phuket Island
Phuket Island, was known as Thalang (Tha-Laang) and, in Western sources, Junk Ceylon, is one of the southern provinces of Thailand. Neighbouring provinces are Phang Nga and Krabi, but Phuket is an island so it has no land boundaries. Phuket is also referred to as the Pearl of the Andaman. Phuket, is about the size of Singapore, and is Thailand's largest island. The island is connected to the rest of Thailand by three bridges, all at the north end of Phuket. The oldest is now a foot bridge and is used by anglers when the tide is right.
Phuket Island is on the west coast of Thailand in the Andaman Sea. Phuket's wealth mainly came from tin and rubber, and has a rich and colorful history. The island was on one of the major trading routes between the Middle East,India,China, and other Asian nations, and was visited by ships of Portuguese, French, Dutch and English origins. The islands main income is tourism.
One of the most popular tourist areas on Phuket is Patong Beach which is the most populated beach, has the best facilites and lots of activities to try. Most of Phuket's nightlife and its cheap shopping is located in Patong, and the area has become increasingly developed. Heading south from Patong, there are other beaches, these include Karon Beach, Kata Yai Beach, Kata Noi Beach, Nai Harn Beach and around the southern tip of the island, Rawai. To the north of Patong are Kamala Beach, Surin Beach and Bang Tao Beach. These areas are generally much less developed than Patong, and if you are looking for a quiet holiday, then stay at any one of these away from Patong. Our favourite for spending a day at the beach is Kata Yai, about a 12km drive south of Patong.
There are many islands to the southeast, including Bon Island, Coral Island, Raya Island that are a short boat trip away. The best for snorkeling is Raya (also called Racha). See our Racha Island Tour page for more information. The Similan Islands lie to the north west, and Phi Phi Islands to the south east are also popular destinations for Tours or day trips. This is our Number 1 Tour. More details are at Phi Phi Island Tour link. Many of the Islanders engage in a lively tourist trade, catering to sightseers, holiday makers, honeymooners, snorkelers and scuba divers. You should note that the Similin Islands is closed during Low season to allow for coral rejuvenation.
Most tourists include a Phi Phi Day Tour, a Phang Nga Bay Day Tour and a Phuket City Tour as part of the holiday as well as Phuket Fantasea and Simon Cabaret Shows.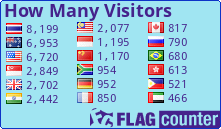 end Dial Codes -->