Phuket Markets
Theres plenty of markets on Phuket, heres some details of some of the more popular.
All temporary markets start in the late afternoon, which is still hot, but you are out of the tropical sun. They are normally starting to pack up at 9-30pm. The permanent ones, like OTOP open around 11am until 11pm.
"NEW MARKETS IN PATONG"
There are two new Market Complexes in Patong.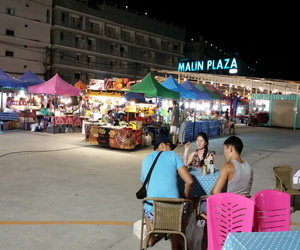 MALIN MARKET
The first is called Malin Market, located at the south end of Patong, opposite Honda, and next to Smelly Klong (Canal).
It has lots of stalls cut into shipping containers, with lots of souvenirs, wall hangings and clothing. Most clientele are Russians from the nearby hotels. A large area at the front is covered with Food carts after dark.
Maybe worth a look if you run out of things to do, but nothing really new apart from a rainbow collection of shipping containers.
One advantage is there is lots of parking, even for cars.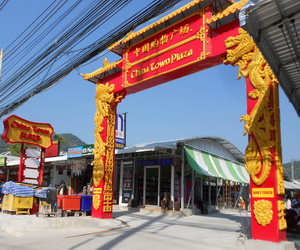 CHINATOWN MARKET
Patongs other new market is Chinatown, just South of the Novotel Vintage Park and Palmyra Hotel on Ratuthit Road.
It is opposite our Phuket Travel and Tours Tour Counter at 120/21 Ratuthit Road, Patong
A mixture of stalls, a few bars, and Massage. Its just being completed and we are not sure if food will be involved....wait a minute, this is Thailand, there will be food involved.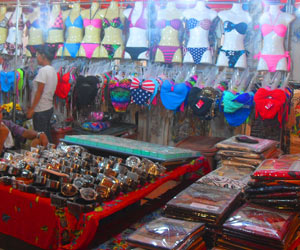 Phuket Town Weekend Markets
Big market held every Saturday and Sunday Nights. Starts around 4pm and finishes about 10pm. Phuket Town Market gets very crowded with locals and tourists, and it gets very hot, so going a little later is probably better. Lots of locals shop here so prices are fair. Not many XL or larger clothing items available. Phuket Town Markets offer lots of variety in clothes, food, costume jewellery, and some crafty stuff as well. As with most of Thailand,lots of cooked food available. Taste some local delicacies,including duck,frogs and various insects.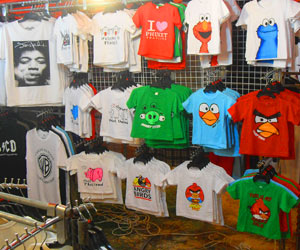 Karon Temple Market
Tuesday and Saturday afternoon and into the night sees the Temple grounds at Karon turned into a bustling night market.
As always, lots of food available as well as clothes, books, make up, sunnies, tooys etc.
The Karon Temple is two hundred meters from the Patak Rd Circle by the beach.
Easiest parking is if you drive past the Temple and grab a space when you see one.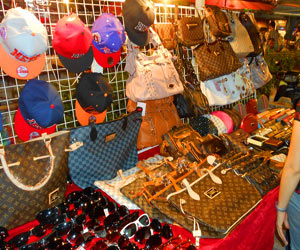 Rawai Market
Rawai Market is held on Thursday evenings. It has about 100 stalls with mainly clothing and food. Worth stopping if you are passing, but not worth making a detour to go. Start at 4pm until around 10pm. From the Rawai Wharf, head North 500meters. The market is in a paddock on the left handside of Chao Fa Rd. The GPS Coordinates are 7.789131,98.33012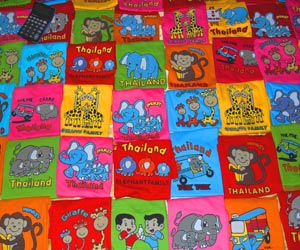 Kamala Markets
There are two Kamala Markets. Friday night market known as Fantasea market they are held opposite the Fantasea Showgrounds at the north end of Kamala. The markets are getting larger week by week. If you are staying nearby, they are well worth a look.
The other market is held on a Wednesday night, at the bottom of the hill heading into Kamala from Patong.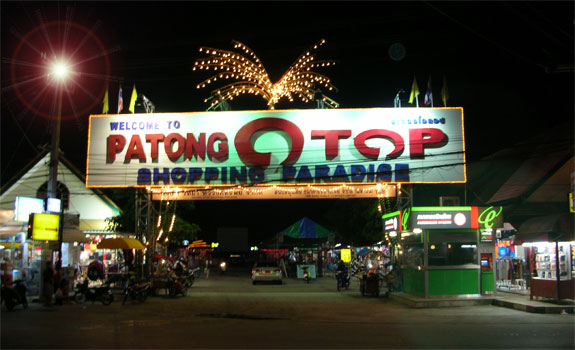 OTOP Markets
OTOP stands for One Tambon, One Product. It was an ititiative to develop local products for sale in markets.
Sadly there is very little craft, but lots of copy products such as T shirts, DVDs, Clothing, Handbags etc. Theres also many bars in the complex where you can quench your thirst.
OTOP Market opens at around 10am, and stall close at 11pm with the bars kicking on until the small hours. If you intend to shop, bargain hard but fair, the stall workers are on a commission, so need some profit to survive. If you are the first customer of the day you should get a good deal as its considered their luck will change once the first sale has been done. Remeber to haggle with a smile, and remember you may miss out on something you want for the sake of a dollar or 2. Lots of Aussies frequent here, so always lots of yarns and tall storys can be heard over a coldy. On the weekends, you will see lots of AFL, Super 15 and NRL games on the TVs. For the ladies, leave hubby at the bar and go shopping to your hearts content!
The markets are on Ratuthit Rd, Patong, next door to the Mercure Hotel, across the road from the Holiday Inn and Hard Rock Cafe.
A short 200 meters walk south of the Jungceylon Shopping Center will get you to OTOP. They cover a large area, so allow plenty of time to explore.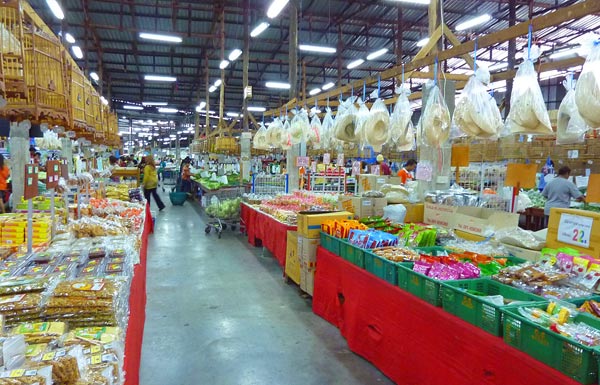 Super Cheap, Phuket Town
If you want to shop with the "locals",head out to Super Cheap on the road from Phuket Town to the Airport. Its about 3km on the left heading north. You will not be disappointed. Supercheap is housed in a very large "chicken" shed, built of sticks and corrugated iron. The place is huge,and the building covers about 5000 square meters. It has everything you can think of including electrical, electronic, computers, motorscooters, bike parts, oil, tools, building materials, furniture, souvinirs, toys, shoes, clothing, groceries, linen, curtains, stationery, pharmaceuticals, cosmetics, bakery items,etc. You will not find brand name clothing here.
They have a website in Thai here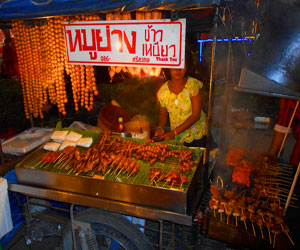 Banzaan Markets in Patong
Banzan Market is a "wet" market behind Jungceylon and the across the road from the Boxing Stadium. A "wet" market is one that sells meat, fish, shellfish, fruit, flowers and vegetables. It opens very early in the morning and closes about 6pm.
At sundown the Banzaan Market Carpark becomes home to sidewalk restaurants and food carts with very cheap fare
If you are on a budget or enjoy sampling many different foods, then drop by the Banzaan Caprk Market after 7pm.
The markets are a short walk from Bangla Road, walk up Soi San Sabai, at the T junction turn right. It is 100m on the left.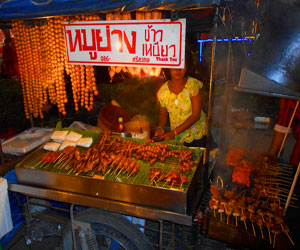 Nai Yang Beach Market near Phuket Airport
Nai Yang Beach markets are held 3 afternoons a week. They are local markets, so don't expect any classy items. Lots of food stalls and food carts.
Parking is a challenge, but if you see a spot grab it.
The Nai Yang Markets run from around 3pm until 7 pm, and operate Tuesday, Thursday, and Saturday.
The markets can be found off Highway 4031. From the Airport, head south, turn right heading to Nai Yang Beach, turn off. The market is 100m down this road on the right hand side.