Raya Island Day Tour (or Racha Island)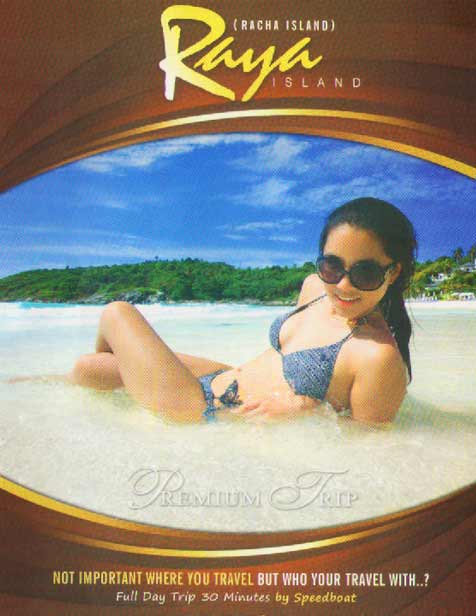 Raya Island (also known as Racha Island) is a short boat ride from the south end of huket. The brilliant white coral beaches are postcard perfect, and the water is crystal clear all year round.
Remember to take Sun Glasses, Sun Block, Insect Repellant, a change of clothes, towel, camera with spare batteries. Transport to and from your hotel is provided. Lunch is also served as part of the package.
Racha island is a great place to relax and enjoy some water sports such as snorkeling, SCUBA diving and fishing. The fish life is abundant and often sea turtles are seen on the south side.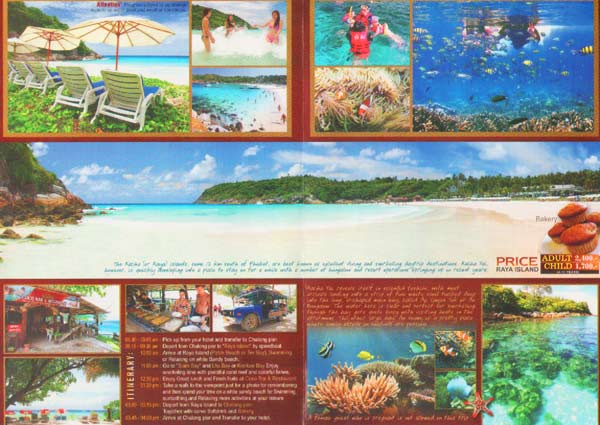 08.00 - 09.00 am Hotel Pick up and driven to Chalong Pier.
09.15 am. Depart from Chalong Pier to Raya Island by speedboat.
10.00 pm. Arrive at Raya Islands Patok Beach or Ter Bay. Swimming or sunbathing.
11.00 am. Go to Siam Bay and Lha Bay or Konkae Bay. Enjoy swimming, snorkeling, fish feeding, and sightseeing of the plentiful and colourful fish.
12.30pm. Lunch and fresh fruit at Coco Bar and Restaurant.
01.30pm Take a stroll to the viewpoint for great panaramic scenes. Enjoy more snorkeling and swimming.
03.00pm Depart Raya Island.
04.00 pm. Arrive Chalong Pier then depart back to your hotel.
What to take;
Sunglasses
Sunscreen
Insect Repellent
Camera
Batteries
Towel
Shorts and T Shirt

WHAT TO TAKE


SUNGLASSES
SUNSCREEN
INSECT REPELLANT
CAMERA
BATTERIES
TOWEL
SHORTS AND TSHIRT
SOME MONEY
Potok Beach, Raya Island