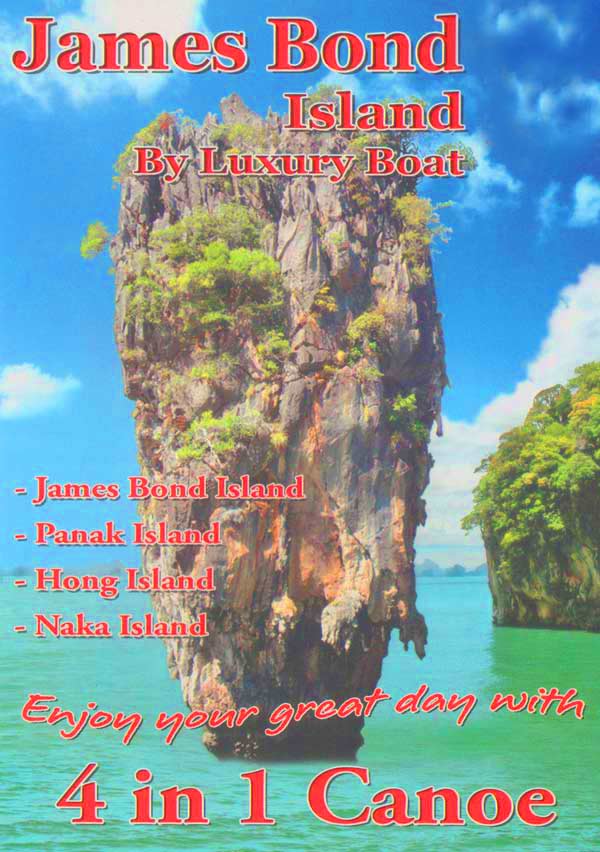 PHANG NGA BAY BOAT TOUR
A Day Tour on an Island cruise to Phang Nga is a must on your Phuket Holiday
Phang Nga Bay lays between Phuket province, Phang Nga province, and Krabi province. It has many hundreds of islands and is a must do for a day tour. There are many companies doing this tour. We have chosen a select few who have a great reputation to make your day a fun day out. Make sure it includes James Bond Island, and a canoeing excursion. It should also include several stops at other islands, include a canoe tour inside a hong (cave) and explore.
The day starts with your hotel pick up at around 8am, transport to the pier where you will meet up with your boat and crew for the day.
The days programme will go something like this: 9-30am Depart Chalong Pier 10-30 Arrive James Bond Island. Lots of photo oppurtunites on the island made famous by the James Bond movie, "Man with the Golden Gun" 12-00 Complimentary Lunch on board boat 12-30 Arrive Koh Hong (Cave Island). Explore the hongs and secret lagoons with your guide in an inflateable canoe or kayak. 3-30pm Arrive back at the Pier and transport back to your Hotel.
Tour prices start at 1700Bt per person, children under 12; 1400Bt. A group discount can apply for more than 4 people.
Go to our Contact Page and message us with your desired date, or you can book direct through Paypal on our Tour Shop Page If you are staying in Patong, we will deliver your voucher to the hotel, no fuss, no haggling in the street.
What to take;
Sunglasses
Sunscreen
Insect Repellent
Camera
Batteries
Towel
Shorts and T Shirt