A few Phuket Island secrets that we have discovered exploring.
We will reward more secrets that we publish on here with 2 days free motorbike hire from Motorbike Rental Phuket.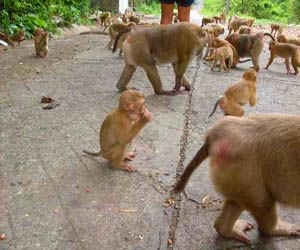 MONKEY MOUNTAIN, PHUKET TOWN
A City Tour should include this stop.
Monkey Mountain is officially known as Khao To Sae. It is the mountain with the TV transmitting antennas sitting on top dominating the landscape in Phuket Town. I call it Monkey Mountain because of the two large tribes of monkeys living there. My guess is about 400 altogether.
They are fed everyday by a Thai man with a truck load of fruit, probably rejected by a supermarket. Because they don't need to go hunting for food, the breeding is immense.
Theres always lots of "babies" being carried around by mums.
When visiting, get a few kilos of peanuts at Kathu Market (another secret). They love them, and the greedy ones store them in there cheeks.Khao To Sae can be accessed from Damrong Rd in Phuket Town. Head for the intersection with To Sae Road.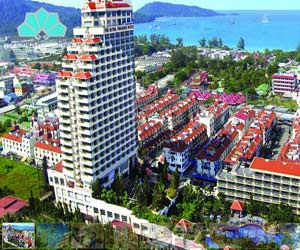 SUNSET VEIW IN PARADISE, PATONG BEACH
"Shaken, not stirred"
You don't have to wait until sunset to see this great veiw of Patong. On the 25th Floor of the Royal Paradise Hotel is a veiwing platform open to the public (buy a drink of course). It is part of The Royal Kitchen Restaurant. Mocktails are 2 for 1 between 5pm and 7 pm.
Access to the hotel is from Ratuthit Road. Parking should be no problem outside the hotel if you advise security your destination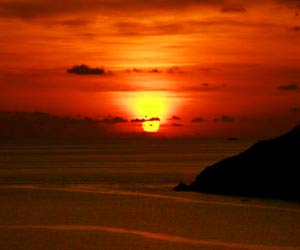 CAPE PROMTHEP TEMPLE
SUM NUK SONG - a very different Temple on Phuket
Your tour driver may not know this one!
Promthep Cape is a popular stop on an island tour and is a favourite spot to watch a Phuket Sunset. But not far from the Cape is a little known Temple called Sum Nuk Song with great views to the Cape and southern islands. From the main Cape Promthep carpark, head south about 300 meters, then turn right down a small side road to the end and enter the temple grounds. Walk past the "warrior" display down a few steps to a Viewpoint. Spectacular scenery, and a great spot to watch the sunset. You will see the Cape Promthep lighthouse from here.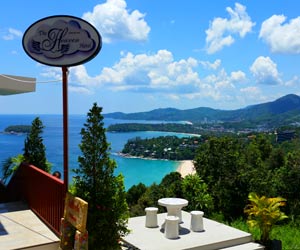 HEAVEN HOTEL AT KATA VIEWPOINT
The best view on Phuket Island
Your tour driver may not know this one!
This Hotel is doen the small road next to Kata Viewpont. It would make an ideal spot for a Honeymoon, Romantic Holiday or a dirty weekend....
You can book through our travel counters or tour booths.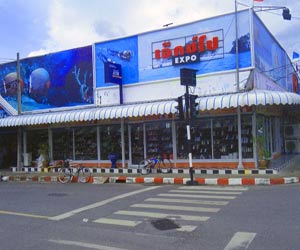 EXPO SHOPPING, PHUKET TOWN
Boutique type market for zany fashion.
Not far from Robinsons in Phuket Town is a shopping complex called Expo Fair. It is a large indoor airconditioned market with lots of female fashion. Larger sizes are not catered for, but if you are Thai size, then its worh a visit. It is on the corner of Chana Chareon Road and Tilok Uthit Rd. No problem parking, and the complex is much larger than the photo shows.
BEACHES WITH PRIVACY
Explore down some tracks to discover these.
There are plenty of beaches with some privacy if you explore Phukets coast line. I have included a few which you may care to visit.
The top picture shows Laem Ka Beach. It is between Chalong and Rawai, when travelling south, at the 7-11 by the set of lights, turn left down a dirt track. Its about 500m to the beach.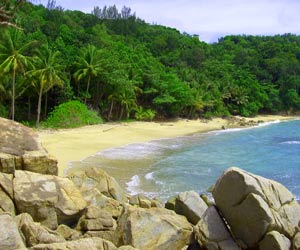 Phuket North has this secret
Another secret is Layan Beach. It is at the north end of Bang Tao Beach and is a bit hard to find the way. It can be accessed at either end, so there is a little challenge for you!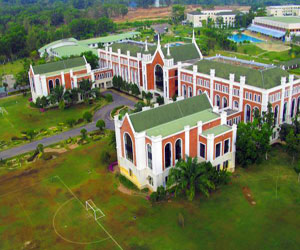 STUCK IN TRAFFIC FROM THE AIRPORT?
Don't tell anyone, this IS Top Secret
Some may already know it.
Airport to Patong is a little easier by taking this route. The problem is turning right at Tesco Lotus. The traffic banks up because of the underpass being constructed.
The alternate route passes the British International School, shown in the picture. Heres a link to the map. Also check it out on Google Maps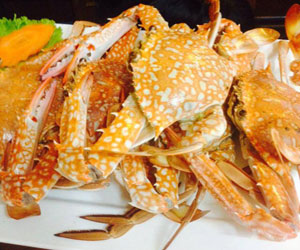 RAWAI SEA GYPSEY VILLAGE
Select fresh seafood, have it cooked at the local restaurants
Part of an Explore Phuket Tour
If you are doing a City Tour or just exploring Phuket, have lunch or dinner at the Rawai Seafood Market. Select your crabs, shrimps, lobster and fish and have it cooked at the surrounding restaurants.
Cooking costs around 100Bt per Kilogram.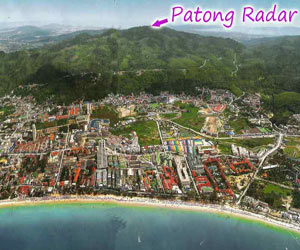 PATONG RADAR
Motorbike Tour destination.
High above the eastern slopes of Patong, there is a large radome housing a radar antenna. You can drive to the entrance to the complex, but not the way you would think. Access to the road is from Highway 4021, near Chalong Temple.
From near the summit is a great spot to take photos of Patong and Patong Bay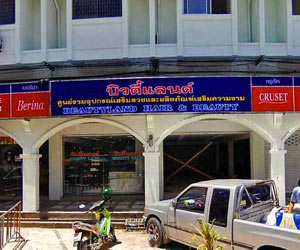 BEAUTYLAND - GIRLS' PARADISE, PATONG
Cosmetics Galore.
Beauty products and hair supplies basically really cheap.
There are three Beautyland outlets I have seen in Phuket.
Apart from Patong, there is one in Phuket Town and one in Chalong. Phuket Town~near Pavilion Hotel, Thungkor Rd. Chalong~ heading north on Chao Fa Rd West from Circle , RH side a few hundred meters from the Circle (Roundabout).
A big thank you to Trip Advisor members for the following information.
"It is a huge shop over 2 floors & sells everything to do with beauty products, hairdressing supplies etc etc. The local brands are extremely cheap & they have a few others like Maybelline & Loreal."
"Oil of Olay Regenerist range $40 here $10 there !!! if thats not enough there is so much more."
"Ahhh Beauty Land!. what a place this is!. i think i spent all my spending money there when i was there in May. My best buy what blowdrying brushes, those wooden round ones. they retail at home for about $15-$20 depending on how big.... at Beauty Land they were only 60-90 baht!.. so definatly stocked up on those!. Alot of hair treatments, they were brands i had never heard off, but they smelt delicious so stocked up on those, they are about 50baht a tub. make up brushes were about 30baht-90baht, depending on the material. Its kind of like how a normal Hair Dresser suppliers in sydney looks like, but a bigger version and bigger variety."
"I also purchased a really big make up case/carry bag for about $25 aussie. And also, i am always loosing Bobby Pins, so i purchased a big bag i think maybe 1kg worth for like $5. As for make up , pretty much at all places in Thailand, its all Light as the Thai's like to have lighter skin, so it doesnt really go well with Tanned people but there is heaps of Mascaras, eyeshadows, nail polish... its a girls paradise!!!"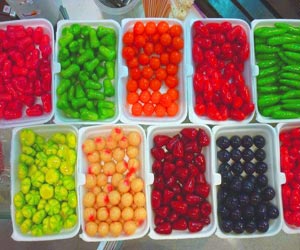 KATHU MARKET, CLOSE TO PATONG
Wet Market a short distance from Patong
Just over the hill from Patong at the first set of traffic lights is Kathu Market. Early evening is the busy time with locals shopping for meat, friut and vegetables. Leave out the meat section if you are squemish.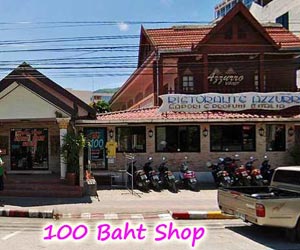 100 BAHT SHOP, RATUTHIT ROAD, PATONG
Bargain Shopping in the heart of Patong.
Along Ratuthit Road, the Main Road that is one way heading south, is a great little shop that sells clothing and souvenirs for 100Bt. The place is tiny, but always crowded. A great shop to buy all the rellies and friends a souvenir from your time in Paradise
Main items are T Shirts, Shorts, Sarongs, and gimmicky trinkets.
The address is at Ristorante Azzurro,107 Rat-U-Thit 200 Pee Road, Patong Beach, Kathu, Phuket, 83150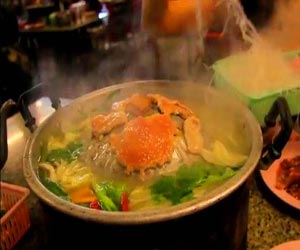 ISSAN BBQ, PHISIT KARANI RD, PATONG
Eat with the locals in a popular Buffet cook your own restaurant.
Issan (also spelt Isaan and Esan) in Thai means East. Many Thais in Phuket are from Issan origin, and one of their favourite restauarants is the Issan BBQ. A Thai girl is in her element cooking at one of these eaterys. There are about 6 scattered around Patong. My favourite is across from Wat Suwan Khiri Wong.
Its a very basic and ramshackle, and food is cooked by you on the table top BBQ bowl.
Open from about 7pm until late, and price is 129Bt per person all you can eat. It can be found on Phisit Karani Road, opposite Wat Suwan Khiri Wong (the temple at the bottom of Patong Hill)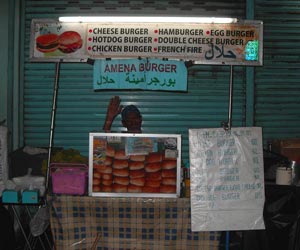 SOI SAN SABAI BURGER, PATONG
Late night "Diner" close to Bangla Road, Patong
Many people rave about these burgers and they are great on a belly full of beer. Opens late until sunrise.
Drop by on your way home in the wee hours.
80 Baht....bargain!!!
Soi San Sabai or San Sabai Road is at the non beach end of Bangla Road, go straight across Ratuthit Road, you are now in Soi San Sabai. 20m up on the right you will find this Burger Stand. The area is well known for its after hours drinking, so it can be an experience to stay up late. Call in to Rock City as well, its the best Rock in Patong. Rock City night club is at the start of Soi San Sabai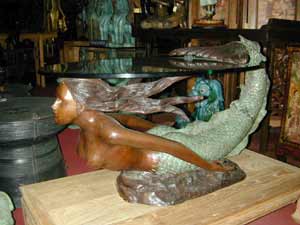 CHAN ANTIQUES
Impressive Thai Antiques for sale.
Chan Antiques is a large Antique Shop on the Bypass Road.
The store is very large with lots of religious and cultural items shown in a proffessional display.
Well worth a stop on a city tour if you are into old things
99/42, Moo 5,Chalermprakiat R.9 Rd., Tambon Rassada, Amphur Muang Phuket 83000.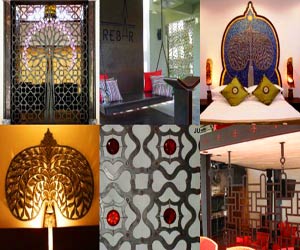 UNDERWOOD, PHUKET TOWN
Alternate live music venue.
Underwood is on the Bypass Road in Phuket. They recently opened a music stage with Live Concerts.
The store is very large with lots of historic items and zany artwork.
Well worth a stop on a city tour if you are into old things
Chalermphrakiat Ror 9 Road, Rassada, Muang, Phuket, Thailand 83000