Phang Nga Bay Day Tour or Sunset Tour
June Bahtra, The Spirit of Phang Nga Bay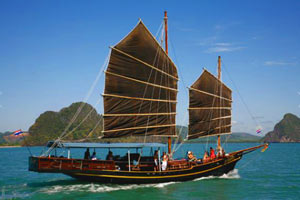 Phang Nga Bay is on the east side of Phuket Island. Phang Nga has stunning scenery thoughout the Bay and is a spectacular destination for a Sunset Tour or even a day tour.
Your Phang Nga Bay Sail Tour will include cruising past some amazing scenery. Be sure to have your camera with you, so you have lifelong memories of your tour. The June Bahtra sails from the Yaght Haven Marina, so is already close to Phang Nga Bay. This trip is of an exceptional quality and should not be compared to other cruises. Numbers on the boat are kept down to allow you freedom to move around and take in the whole experience.
Things to take include Sun Screen, Sun Glasses, Insect Repellant, a change of clothes, towel, camera with spare batteries. Transport to and from your hotel is provided. Meals are also served as part of the package, please discuss details at time of purchase. Different packages or tours have different meals supplied.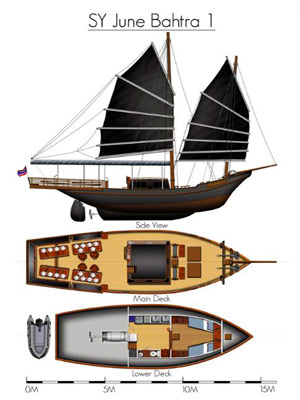 June Bahtra, Day Trip of Phang Nga Bay
07.30 - 08.00 am Hotel Pick up and driven to the Pier.
08.30 am. Sail from pier on the "JUNE BAHTRA" through the Ko Lawa channel taking in the scenery as you head for the first stop at Grotto Cave.
You will be ferried by longtail boat to this attraction in the mangrove delta of Phang Nga River. Visit the Sea Gypsey Village at Pra Nee and also stop at James Bond Island where the movie, "Man With The Golden Gun" was filmed.
1.00 pm. Lunch is onboard the June Bahtra and consists of a Thai Buffet. You will be able to swim and relax on a beach of a nearby island.
3.00 pm. Depart for Pier.
4.00 pm Arrive at Pier and transfer to your hotel.
5.30 pm. Arrive back at your Hotel, happy and contented.
Sunset Dinner Cruise on June Bahtra Sail Tour
4.00 pm Pick up from the hotel by air - conditioned vehicle
5.00 pm Embark on board "JUNE BAHTRA" and cruise through Ko Lawa to view the secnery sunset over Phang-Nga Bay
7.20 pm Buffet dinner on board
8.30 pm Return to Yacht Heaven pier and transfer to the hotel.
9.30 pm Arrive at back at your hotel.
Available on Wednesday & Saturday only from 4pm to 9.30 pm