Phuket has lots of activities and fun things to do. Phuket Tours can arrange any of these at a good rate. Just phone us on 087 1889047, or go to Phuket Travel and Tours Contact Page.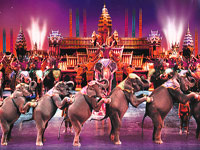 FANTASEA STAGE SHOW
By far the most popular entertainment on the island is Fantasea.
It is a must do for any new visitors. The show is a collage of entertainment which includes elephants and some other animals.
Transport and passes are easliy arranged.
Show is on at 9pm six nights a week.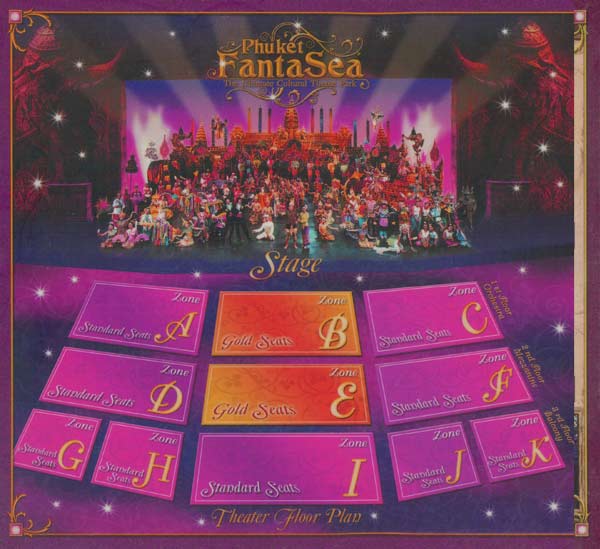 Make sure you book early to get your choice of seating area, but all seats provide a great veiw of the stage, so you will not be disappointed.
Make sure you include the buiffet meal with your ticket purchase. The food is great, and very efficient to serve 3000 customers in short period.
Ticket purchse will also include transfers to and from your Hotel or chosen pick up point. Make sure you know where the bus will be parked afterwards.
Unfortuneatley cameras or phones are not allowed, but they can be left at the valuables counter, which is fast and organised.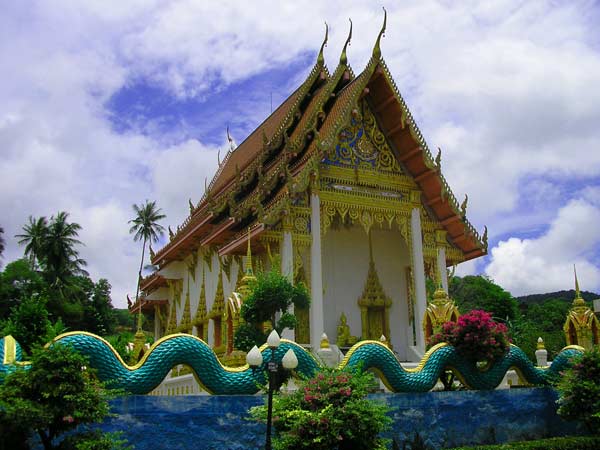 WAT CHALONG IN PHUKET TOWN
Day Tour stops at Chalong Temple.
Wat is the Thai word for Temple. Wat Chalong is a large compound with a collection of temples and Buddhist Shrines. Make sure you have your camera and take the stairs up to the top of the main shrine.
If you like fireworks, you can purchase and let off chinese crackers that I am told gets rid of eveil spirits. The fireworks are very noisy, so take care when lighting them, in fact best to get a local to do it.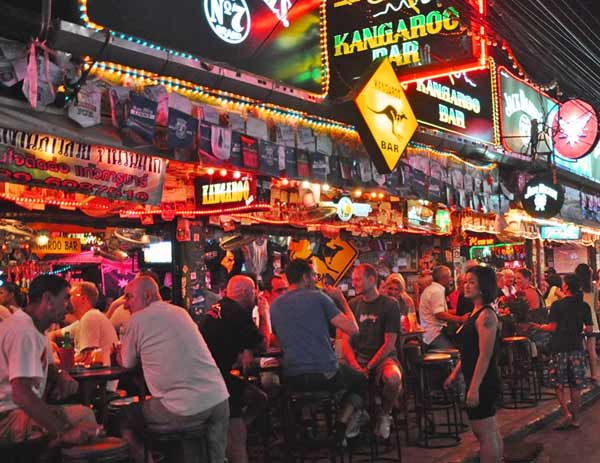 BANGLA ROAD IN PATONG
Patongs Entertainment precinct is centered on Bangla Road.
Bangla Road in Patong is the main center of all nightlife in Phuket. If you want to party or enjoy some drinks, then this is PARTY CENTRAL. A holiday in Phuket must include at least one night out in Bangla Rd. Go-Go Bars, Ping Pong Bars and hundreds of Beer Bars to explore.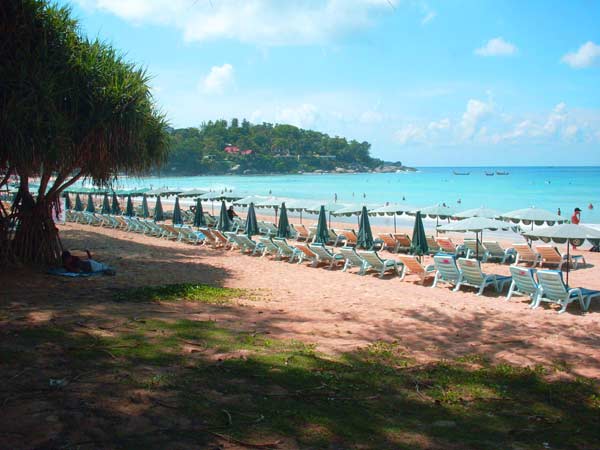 PHUKET BEACHES
Phuket is blessed with many beaches, most easily accessable.
Karon Beach is featured in this photo.
Lots of beaches to explore. A favourite is Nai Harn. Kata beach, Surin Beach, and Bang Tao are all good places to laze away a day. Any of the west coast beaches are worth a stop. Have a drink, a meal, a swim.....
Check our Secrets page for Beaches with Privacy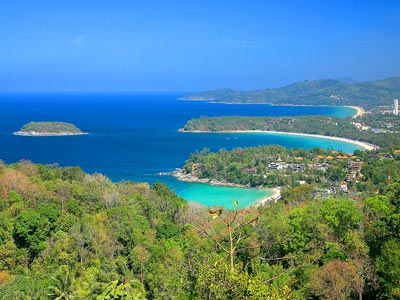 KATA VIEWPOINT TOUR STOP
Favourite tour stop on Phukets west coast.
Well worth spending some time taking in the magnificent panarama from Kata Viewpoint, one of the most popular platforms in all of Phuket. Veiws to Big Buddha, Kata Noi Beach, Kata Yai Beach and Karon Beach.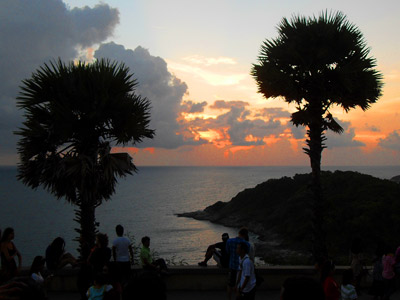 CAPE PROMTHEP, SOUTHERN TIP PHUKET
Destination Sunset!
A picturesque spot on an island tour. Make sure you climb up the Lighthouse to get the best view, but beware as the tiles outside are very hot. Also near the lighthouse is a shrine of elephants rangeing in size from very large to very small, there must be thousands of them. Elephants are considered lucky in Thai society. Many people go for the sunset around 6-30pm. Look at my secrets page for a destination close by.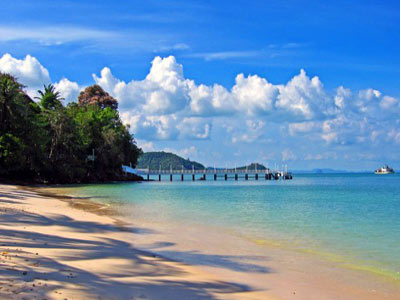 CAPE PANWA
Away from the Hustle and Bustle
Recently opened 5 Star resorts have made this area popular. Names inclue the Radisson, Kantary Bay, Cape Panwa Resort, Crowne Plaza and regent Phuket.
Two nice veiwpoinst, the deep sea port, and the Phuket Aquarium are some attractions out on this cape.
This area can be visited during a City Tour arranged at our Tour Booths.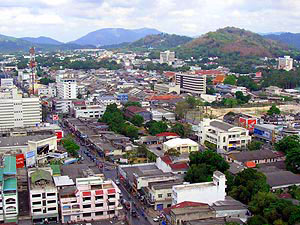 PHUKET TOWN FROM MONKEY MOUNTAIN
Phuket Town is old, rundown, but quaint.
Phuket Town is a large old city that has a population of 300,000. It is the home of all the provincial administration, and national offices such as Immigration and Motor Registration. Phuket Town does not have many tall buildings, so it's spread over a big area
Some places of interest are the Chinese Temples, Sino-Portugese Architecture, Robinsons Shopping Precinct, and Rang Hill. Also explore Old Phuket Town to find some intersting stores, especially around the Baht Bus Station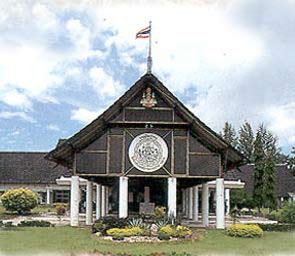 PHUKET MUSEUM NEAR HEROINES MONUMENT
Not far from the Heroines Monument you will find the National Museum of Thalang. It is not easy to find, and seems to not be publicised much. It will take a few hours to explore, and if you are a history buff, you will find it enjoyable.
It can be found by taking the eastbound exit from the monument roundabout (circle), head east for 200meteres on Pha Khlok Road, then the entrance to the driveway is on the right. Travel down the driveway and park under one of many trees.
Entrance fees for tourists is 100Bt, for Thais 20Bt. Open 9am to 6pm, Wednesday to Sunday. Closed Monday and Tuesday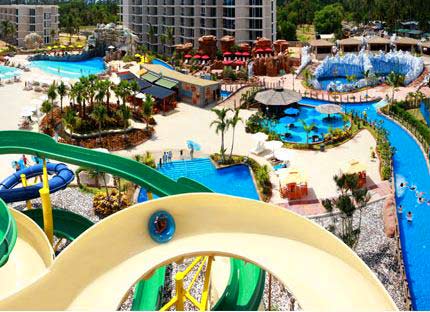 SPLASH JUNGLE WATER PARK
Splash Jungle is a recently opened water park at the north end of Phuket Island. Spend a day with the kids and enjoy all the water slides and rides available.
Transport and day passes can be arranged. Please drop in to one of our Tour desks and get the full details.
Open from 10am to 6pm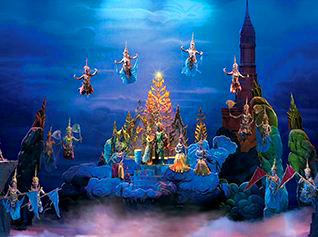 SIAM NIRAMIT STAGE SHOW
Siam Niramit is a new attraction to Phuket.
Similar to Fantasea, with a very glamorous stage show. Also a Buffet Dinner restaurant onsite
Tickets can be arranged at any of our Tour Desks or phoning the contact numbers below.
Shows Nightly