PHUKET DAY TOURS and SHOWS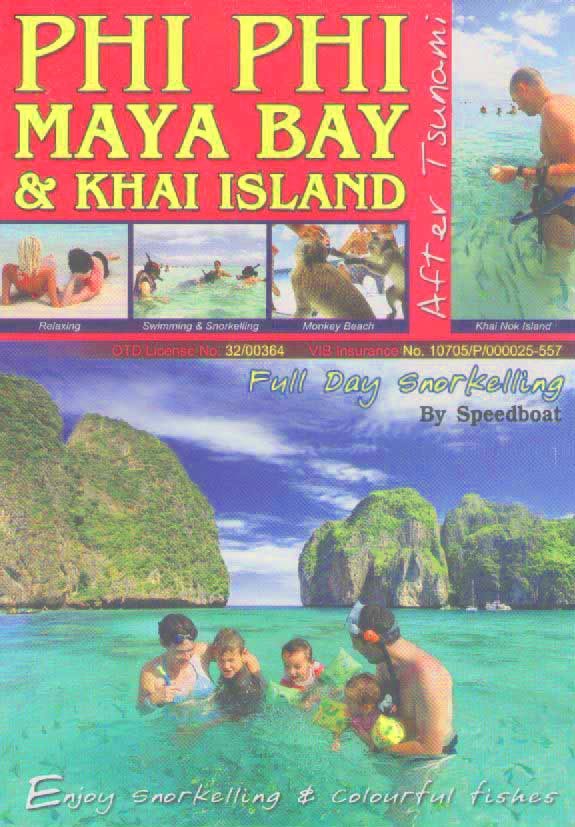 PHI PHI ISLAND
Phi Phi Island (also called Pi Pi Island) lays 42km south east of Phuket. Phi Phi is the top of the list for Tour attactions in Phuket and should be included on yours. It is a popular destination for day trips or tours, as well as a romantic few days away from the bustle.
Remember to take Sun Glasses, Sun Block, Insect Repellant, a change of clothes, towel, camera with spare batteries. Transport to and from your hotel is provided. Lunch is also seved as part of the package.
Phi Phi was hit hard during the 2004 Tsunami, but has fully recovered.
There are several options to utilise. Speed Boat, which is quicker but a lot less comfortable, Big Boat, or ferry. The ferry travels twice daily and does not include any extras, just the journey. I recomend the big boat, its comfortable, roomy, and provides a chance to meet and chat with fellow travellers from all over the world. The speed boat is noisy and tends to hit the waves making it very uncomfortable.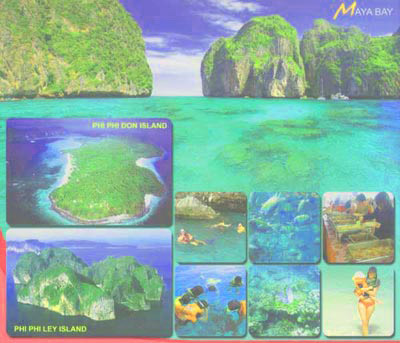 Phi Phi Island activities
Your tour to Phi Phi includes snorkeling, swimming, sightseeing, and exploring.
Hint: To get the fish come to you, take some bread with you, sprinkle some crumbs in the water, the fish will quickly surround you in a feeding frenzy.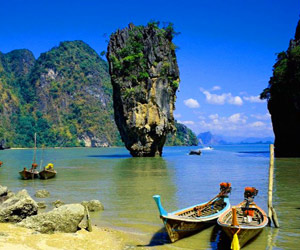 PHANG NGA BAY Phang Nga Bay lays between Phuket province, Phang Nga province, and Krabi province.
It has many hundreds of islands and is a must do for a day tour.
A day tour normally comprises of a trip to James Bond Island made famous by the Bond movie, "Land of the Golden Gun". The tour will also take in islands with secret internal lagoons, only accessable through caves in a canoe or kayak. Don't worry, a guide will paddle you!
Your tour will be on either a large luxury Boat or a speedboat. If you are on the speedboat tour you will visit Pan Yee, a sea gypsey village built on stilts over the water.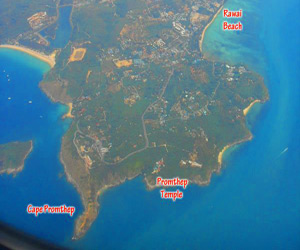 ISLAND TOUR Includes Big Buddha, Cape Panwa, Cape Promthep, Monkey Mountain, shopping, and much more.
Tours can be tailored to suit your interests. You should allow a full day for this venture.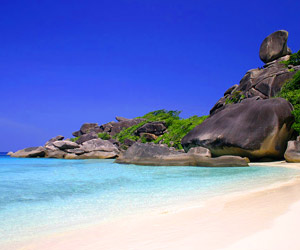 SIMILAN ISLANDS
The Similins are very picturesque and is famous for its dive sites.
Similin Islands are off the coast of Khao Lak about an hours boat ride away. If you want to Scuba, this destination is a great option. Phuket Tours and travel can offer SCUBA courses as well as Liveaboard excursions to these wonderful islands.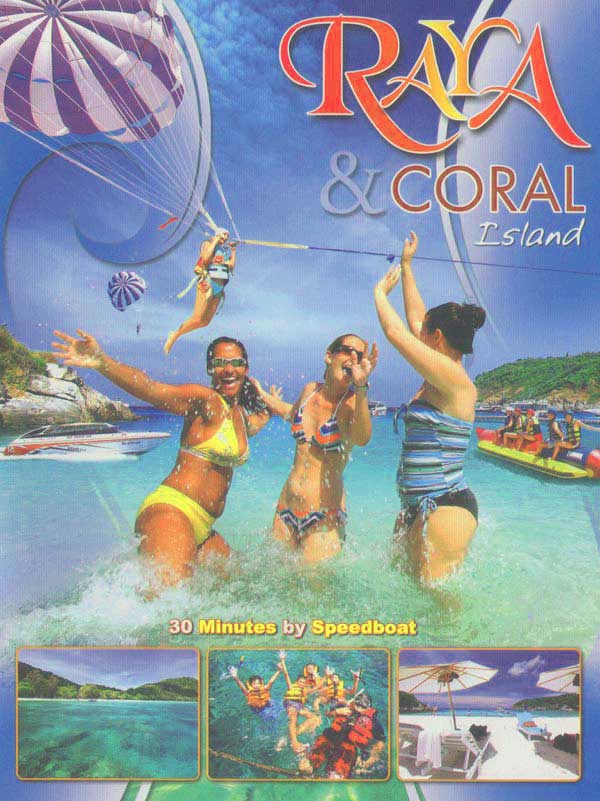 RAYA or RACHA ISLAND


Raya is a very popular destination for snorkelers and divers alike.
Racha Island, also known as Raya Island is a quick 30 minute boat ride from Chalong Pier in Phuket. The island also boats a 5 star resort, so if you want to put your feet up, then this may be the place. Close to Phuket and clear waters for most of the year make this a Tour you should not miss.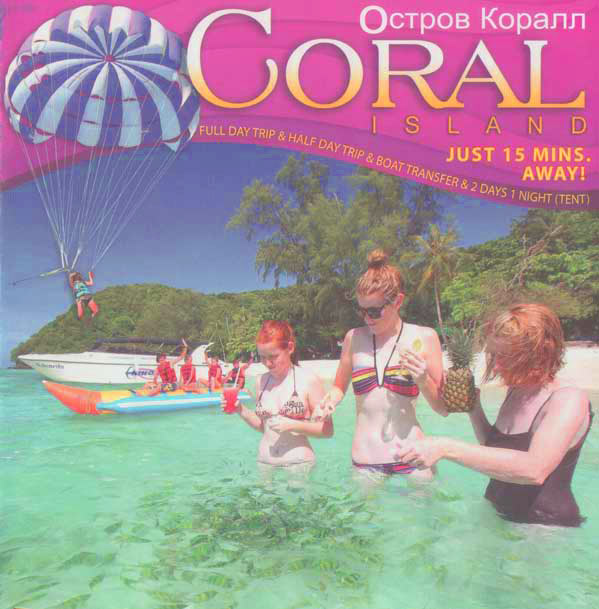 CORAL ISLAND
Coral Island is a 20 minute boat ride away from Phuket
Off the coast of South Phuket. Coral Island is a small and is famous for it's snorkelling sites. If you want to snorkel, this destination is a great option.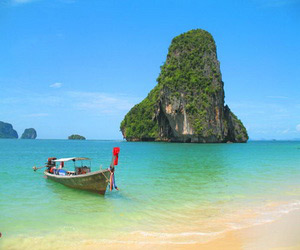 KRABI
Krabi Provence is a 120km drive from Phuket Island. It is famous for its geographic features. Krabi Town is a pleasant regional center that hasn't been overun by tourists.
If you are feeling fit, climb the 1267 steps to a mountain top buddha shrine accessed fro Tiger Cave Temple, just north of Krabi. It's a hell of a climb, make sure you have water, and a hat.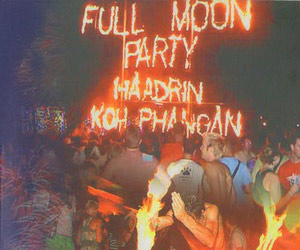 KOH PHANGAN FULL MOON PARTY
Have a look at our Adventure page for more details. Parties are on every Full Moon, so if you are in the area for a full moon, get to a party.
Transport to Koh Phangan is easily arramged, drop in and see any of the staff at Phuket Travel and Tours.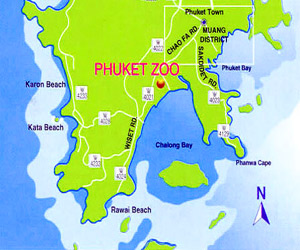 PHUKET ZOO
Phuket Zoo is a privately owned zoo situated south of Phuket Town in the Chalong District. It houses many varieties of animals and also features lots of Animal Shows. Dont miss the Crocodile Show.
Lots of photo oppurtunites and also available are animals for portrait shots with you. Included are Orangotang, Elephant, Tiger, and Monkeys.
Phuket Zoo is close to Big Buddha and Wat Chalong (Chalong Temple) so they all can be visited as part of an Island Tour.