TRANSLATE THIS PAGE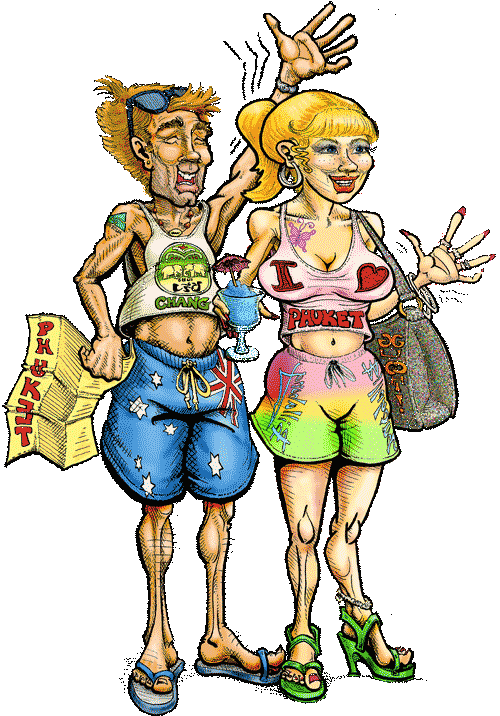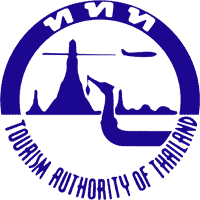 TOURISM AUTHORITY OF THAILAND
TAT LICENSE 33/05201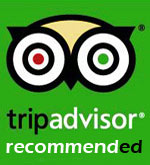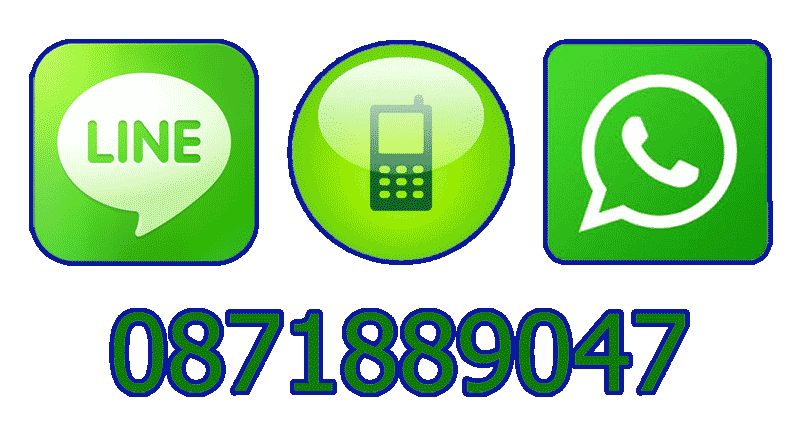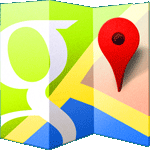 Some favourite restaurants and eating joints in Phuket Island.
This is by no means a comprehensive list. There are literally thousands of places to eat in Phuket.
Here's a few of the popular ones. Feel free to message me if you have others to add, or go to our
Phuket Travel and Tours Facebook Page to comment.


Click the open button to see an extract from the book "The Essential Thailand Retirement Guide"



I love Thai food and so do the Thais. Asking about eating is a Thai way to express affection or concern between Thais.
My farang friend took his new Thai wife for her first ever tour of Bangkok. They spent the day seeing the great sites, so dear to the heart of the Thai people.
The Grand Palace with its beautiful architecture and intricate detail and Wat Prakaew with the Emerald Buddha, the sacred Buddha image meticulously carved from a single block of emerald, these places that are sacred grounds for Thais. He took her to the Siam Aquarium where she desperately wanted to see the penguins she had seen on TV. They return to the hotel and the girl calls her mother. What's the first thing they talk about? It wasn't her incredible sightseeing day in the Thailand's capitol. It was what each had for lunch. Thai cuisine is ranked as one of the top ethnic foods in the world. I would hope the future Thai expat would have a taste for it. It's not necessary. You can stick with your farang food. If you're going to make your own food, the ingredients are here.
There are all kinds of ethnic restaurants including Italian, but the ingredients are more expensive and the Western food in restaurants, although there is plenty to choose from, isn't as good. There is often farang food and Thai food on the same menu with the Thai food at half the cost.
I eat mostly Thai food now, probably because I have a Thai chef. I still need an occasional Big Mac, but I don't eat much beef anymore. It's available in the supermarkets but Thai beef is poor quality compared to the West. You can get Australian beef that's good quality but it's expensive. Chicken, pork and fish are the same and inexpensive. I have to go out of my way to find good bread. Thais don't eat much bread. This is a rice country. Anything that's imported is going to be expensive. Cheese, for instance isn't part of the Thai diet so there isn't much to choose from that's not imported. I buy New Zealand aged cheddar and pay dearly for it.
In Thai cooking there are four flavors: sour, sweet, salty and spicy. The spiciness sits on top of the flavors. The secret of a good dish is the right balance of the flavors -- you will find that there are "sweet spots" where the flavor just tastes right. Where in western cooking ingredients are measured, Thai cooking is much more lenient. While this flexibility makes recipes more forgiving, internalizing "the system" can be challenging. Thai recipes are a starting point if you're making your own.
In Thailand food forms a central part of any social occasion. Food often becomes the social occasion in itself. This is partly due to the friendly, social nature of Thai people, but also because of the way in which food is ordered and eaten in Thailand. In the West, we order a starter followed by the main course and dessert, with everyone ordering for themselves. As a general rule, Thai diners order the same number of dishes as people present. All dishes are shared and enjoyed together. When eating out, a group of Thais order a variety of meat or fish dishes, plus vegetables, a noodle dish, and maybe soup.
In the West, everyone's food gets served together. If someone doesn't get a plate of food, it's a problem. Being polite, if someone doesn't get a plate of food, we'll wait so we can eat together. In Thailand dishes come out as soon as they're made, usually one at a time. If you're ordering individually and food arrives before others in Thailand, dig in, don't complain about it. It's just the way things are. Whoever gets served first should just tuck in, and everybody else, wait patiently
.
Thais don't have a breakfast meal, in that the food at breakfast may be the same as any other meal. There are go-to foods for the Thais, noodle soup and som tam (papaya salad). They usually run about $1. Living here a few years has changed the way I eat. I'm not talking about just the food. I use different utensils. It was a lifetime of fork, spoon and knife. Now, it's a fork and soup spoon. The fork, held in the left hand, is used to push food into the spoon. You eat with a soup spoon. Knives are not generally used at the table because food is cut into bite sized pieces. Thais are rice aficionados. It's all the same to me, but my girl will agonize over the choice between 20 varieties. (She agonizes over most buying decisions which is why going to the store together is so frustrating. I'm usually reduced to finally yelling, "Chimmy" (choose) at her. She ignores me.) There is white rice, of course. There is also brown and black and many different kernel lengths. She always wants to get "old" rice meaning one that's a year old. She says it cooks differently. Sticky Rice is a type of Asian rice that is especially sticky when cooked. It is called glutinous in the sense of being glue-like or sticky and not in the sense of containing gluten. While called "sticky," it is not to be confused with the other varieties of Asian rice, which become sticky when cooked. The sticky rice is shaped into balls which are dipped into side dishes and eaten. The girl looks for new fresh sticky r ice because it's sweeter.
Thai food is served with variety of sauces and condiments. You'll see small containers with tiny spoons on every table. Fish sauce is served with every meal. It takes the place of salt. Fish sauce is often doctored with lime juice, chopped chilies and garlic. Thai restaurants condiments include dried chili flakes, sweet chili sauce, sliced chili peppers in rice vinegar, sugar and a spicy chili paste. With certain dishes, whole Thai peppers, raw garlic and cilantro are also served. Cucumber is sometimes eaten to cool the mouth after particularly spicy dishes. Cucumbers are often featured as a garnish. Thais do not combine various foods on their plates; they sample one dish at a time, eaten with a mound of rice or sticky rice on the side. Bowls are used mainly for soup. Water is usually the beverage of choice with a meal. Thailand is known for its curry. Thai curry incorporates many Indian spices in its pastes, but still manages to maintain its own unique flavor with the addition of local spices and ingredients, such as Thai basil, lemongrass, and galangal (Thai ginger). Other commonly used flavorings are kaffir lime leaves, ginger and the ever present, birds eye chili. This small chili is one of the spiciest and used extensively in Thai cooking. The Thai name literally translates to "mouse-dropping chili". My girl eats them like candy.
Highlighting a few of the most well-known Thai dishes:
Pad Thai
Pad Thai is probably the most famous dish outside of Thailand and something that tourists rave about. Medium sized rice noodles are stir fried with a host of ingredients like tofu, peanuts, shrimp, green onions, bean sprouts, garlic, pepper, fish sauce and lime juice. A scrambled egg mixed into the noodles seals the dish together and ensures deliciousness. Pad Thai is great to eat with a squeeze of lime and ground peanuts. Again, a spoon or two of sugar, chili flakes, and vinegar, are always an option by way of condiments.
Som Tam
Som tom is perhaps Thailand's most famous salad. It's the go-to food and the staple of millions of Thai. If you want to feed a hungry Thai girl, stop at the som tam food wagon. Garlic and chilies are first pounded with a mortar and pestle. Tamarind juice, fish sauce, peanuts, dried shrimp, tomatoes, lime juice, sugar cane paste, string beans and a handful of grated green papaya are tossed in. The sweet, salty, and spicy flavors paired with the crisp crunch of the green papaya and sticky rice is heaven on earth for Thais. Many variations are available including one made with crab or fermented fish sauce. Variations can also include cucumber and long beans instead of papaya.
Tom Yum Gung
This Thai masterpiece soup is made with shrimp, mushrooms, tomatoes, lemongrass, galangal and kaffir lime leaves. It can be ordered loaded with coconut milk and cream or without for a slightly more sour and healthy version. This soup truly unifies the Thai tastes: sour, salty, spicy and sweet, all in one bowl. This is an authentic Thai delicacy that many locals are passionate about and has spread around the world.
Massaman Curry
Massaman is a sweet curry that originates from Southern Thailand as a Halal dish. The curry sauce is a mixture of curry paste, coconut milk, a strong flavor of peanuts, and a hint of nutmeg and cinnamon. Massaman is usually pre-made with chicken and always a few chunks of potatoes that have soaked up the coconut milk like a sponge. I love this food.
Kao Ka Moo
Pork boiled for hours in a sweet soy sauce base with hints of cinnamon and anise are the signature characteristics of kao ka moo. The fatty pork literally slides right off the bone and onto a plate of rice. This dish is usually visible in the restaurant with whole soy sauce stained pig legs sitting openly in large metal pans and steaming through the day. I love it with some hot sauce on it.
Grilled Chicken
Grilled chicken is everywhere. It's hard to walk down the street in town without detecting the scent. Grilled chicken is best complimented with a pile of tangy som tam and a dollop of sticky rice. Like many other dishes, the best grilled chicken is found on mobile stands attached to bikes or pushcarts. All Isaan restaurants serve grilled chicken. Grilled chicken and sticky rice is my favorite meal.
Noodle Soup
Noodle soup is a cheap, quick-and-easy staple for the Thai eating experience. Variations in ingredients mean ten different vendors could serve it ten different ways. Noodles are served up in a broth with just about any edible meat: pork, chicken, beef, duck, and seafood being the most popular. One sample and you may not stop until you've tried them all. After being served it's doctored up at the table to individual tastes. Into it my girl puts sugar, chili flakes, vinegar, chili peppers and fish sauce. She loves her noodle soup and som tam. I think everyone in Thailand does.
Boiled Chicken and Rice
Chicken is gently boiled until it is tender then the water is used in boiling the rice. Served with a chicken broth and delicious sweet and spicy sauces, it's the perfect meal. With a bowl of chicken broth, it's about a dollar at the local sidewalk mobile kitchen restaurant.
Green Curry Chicken
Of all the curries, and there's plenty of them, green is among the spiciest. It's also the least like Indian curry. Thailand has a way of making borrowed food distinctively Thai. The proof is in the coconut milk. I also love it with duck. I love all the Thai curries.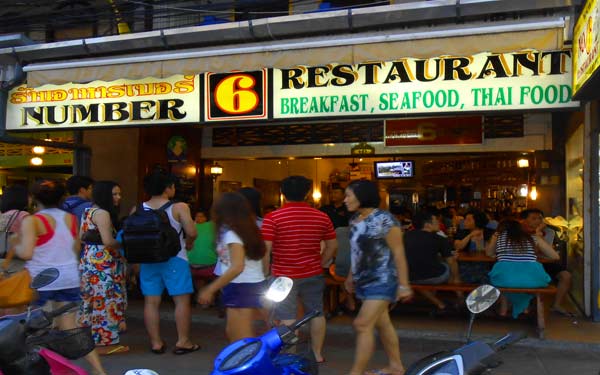 No 6 Restaurant, Patong Beach
Number Six restaurant near Bangla Rd is a favourite amongst all nationalities.
It is family run and offers budget dining for both Thai and international dishes.
The restaurant can be found 50 meters north of Bangla Rd, on Ratuthit road across from CandN Hotel and PS Hotel.
Recently opened is a new "No 6" on the slopes of North Patong. It is owned by the same family and is run by Mama who started the original No 6 many years ago. Free transport between the two restaurants is provided. Same menu, same price, and its a little cooler up in the jungle with a breeze from the beach below.
Try the Pad Thai and a Banana Milkshake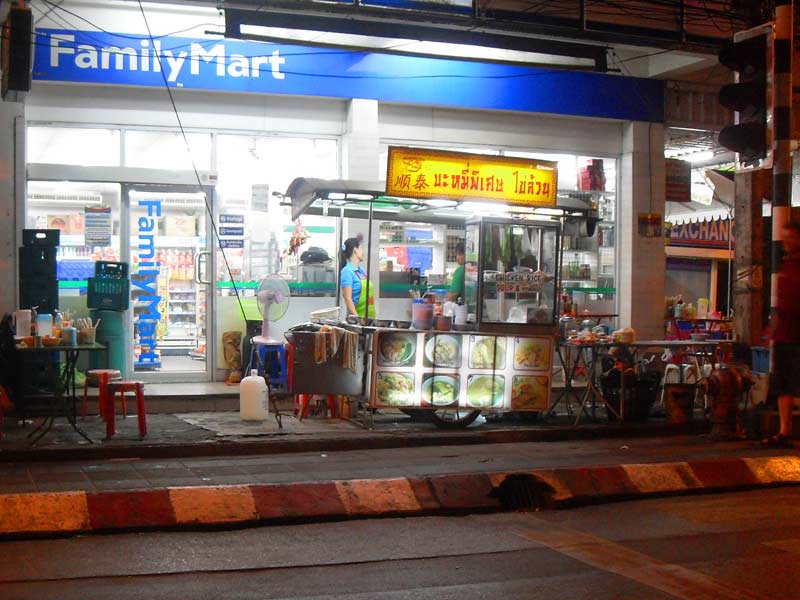 The Noodle Cart
Authentic Thai street food.
This Noodle Cart is at the corner of Ratuthit Rd and Sai Nam Yen Road, outside the Family Mart. It opens at 7pm until midnight, 7 days a week, but closes on Buddha Holidays such as Macha Buchu
They specialise in yellow noodles, which are made using eggs as an ingredient. Favourite dish is Noodles with Red Pork (Moo Dang). On the menu is also Pork Satay. Very tasty. Noodle dishes are 40Bt and Satays 5Bt each.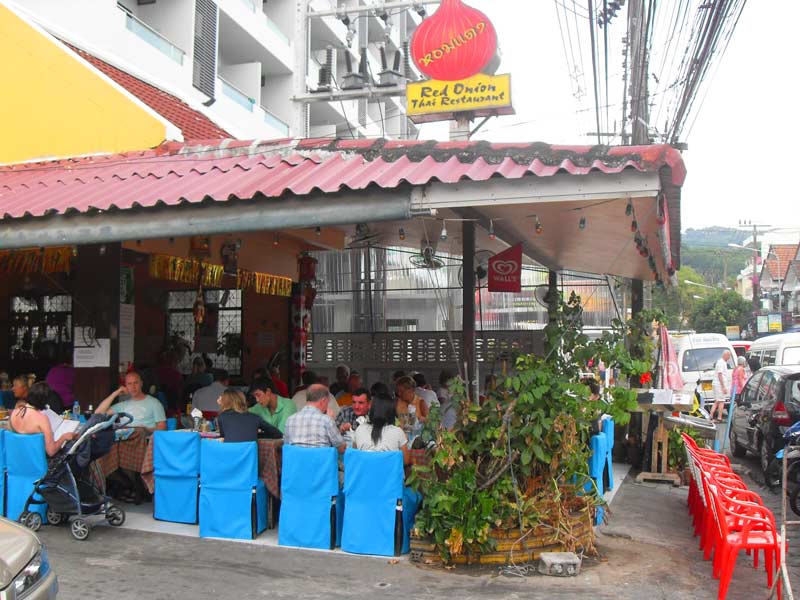 Red Onion Thai Restaurant
Nearly too popular, you will need to queue
Red Onion is a very popular Thai Restaurant and is on Patak Rd at Karon Beach. There is normally a queue to get in. Service is not too friendly, but the effort in waiting is rewarded with some stunning food.
Opening hours 4pm to midnight. Menu is comprehensive and varied. Try the Noodles in gravy with Chicken, Pork or Prawns.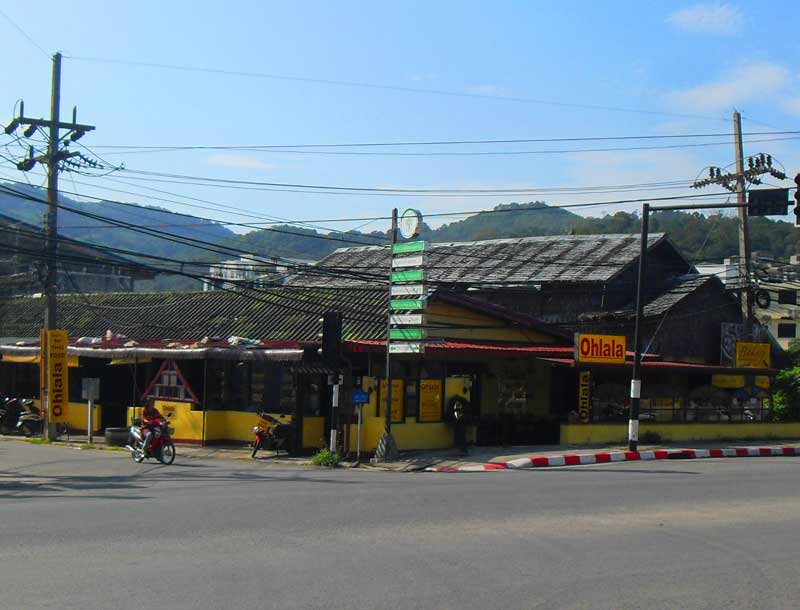 Oh La La French Restaurant
Best bread rolls in Phuket.
French owned and operated restaurant in the heart of Kamala Beach. Extensive menu including takeaway pizza. Opens for breakfast and closes around 11pm. The restaurant is very popular with expats for it's good value and tasty food.
You will find Ohlala Restaurant at the second set of traffic lights in Kamala, heading from Patong.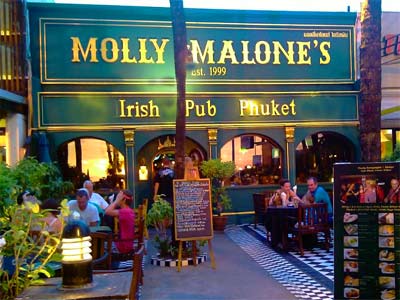 Molly Malones Irish Pub
Irish themed pub in the center Patong
Molly Malones is an Irish Pub Restauarnt, on Beach Road, right in the center of restaurant area of Patong
Opening hours 10am to 2am. Menu is mixed with both Thai and Tourist dishes available.
Night time there is a live band six nights a week (monday-saturday). You can also watch all Live Sport on the many Screens in Airconditioned comfort.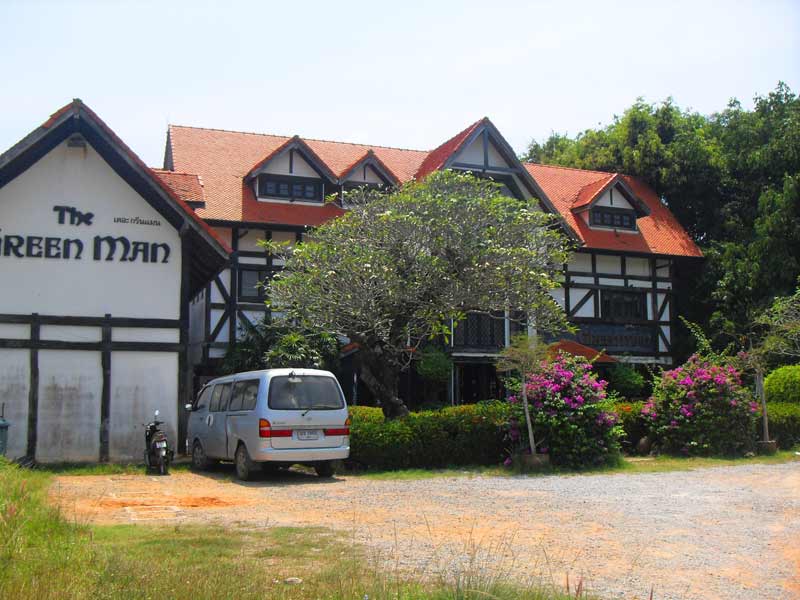 The Green Man English Pub
The Green Man is a delightful Tudor style pub that stands out in the surrounding countryside.
Opening hours 10am to midnight. Quiz nights, live sports and music are on offer on seleceted nights. Check out The Green Man Pub to see upcoming events.
You can find the Pub at 82/15 Moo 4, Patak Road, Rawai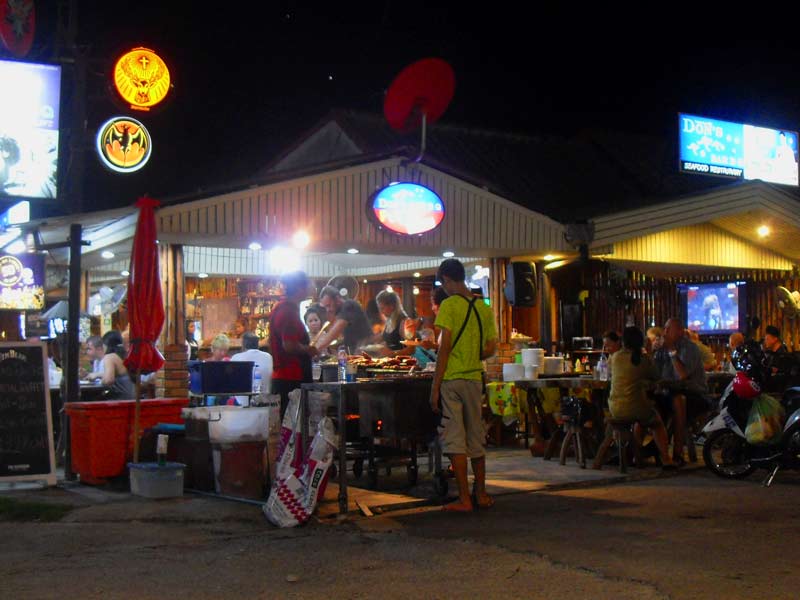 Dons BBQ and Bar, Patong Beach
This little gem is on Nanai Rd, by the foothills of Patong.
Opening hours midday to midnight. Saturday and Sunday nights are "All you can eat" BBQ Buffet. If you have a big hunger on, this is the place. Huge pork chops, kebabs, marinated ribs, and sausages are all part of the Buffet.
There is a Facebook page for Dons BBQ to see whats coming up.
Dons BBQ is towards the South end of Nanai Rd adjacent to Mae Ubol Market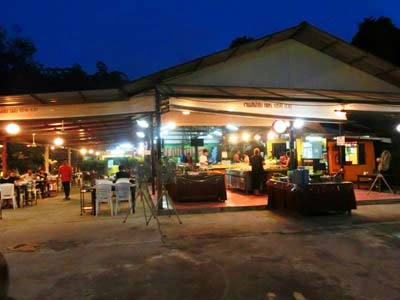 Issan BBQ
Pak Lak Shrimp BBQ is at the south end of Hasip Pee Road. It has a table top styyle BBQ where you cook the food yourself.
Open in the evening until late. This is a Buffet BBQ and is all you can eat.
My Favourite is marinated saty chicken.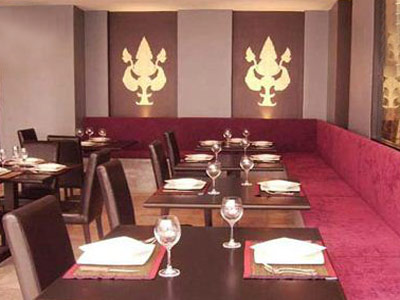 La Dolce Vita Italian Restaurant, Patong Beach
A great little Italian Restaurant tucked away in a side road off Ratuthit Road.
Modern, clean and reasonably priced makes this popular amongst Italian tourists and expats. Fantastic place to meet and eat before heading to the flashing lights of Bangla Road. Opening hours midday to midnight.
Home made pasta, pizza, argentinian meat, served everyday in a stylish, comfortable and romantic ambiance. From the kitchen come authentic Italian, Thai and International dishes created and cooked by the great staff.
The address is 241/17 Rat-U-Thit 200 Pee Rd., Patong
Sweet Restaurant, Patong Beach
Sweet Restaurant, Patong Tower Street, Patong Beach
Sweet Restaurant is a favourite among returning visitors because its clean, friendly, reasonably priced, and is set in a very relaxed Walking Street. Trip Advisor members also give it lots of Thumbs Up. In fact, its the only street where you won't be run over by scooters breaking the law and riding on footpaths, this is a cobbled lane for pedestrians only
The restaurant can be found in Soi Patong Tower, about 200 meters south of Bangla Road. Patong Tower is the tallest building (25 stories) in Patong.
The menu caters for all, including fusspots. Thursday night is Steak Night on the BBQ. Yum.
The owners, an amiable Aussie, Wal, and his Thai wife will make you very welcome, and will give you pointers or advice concerning your holiday.