Day Tour to Phi Phi Island by Luxury Boat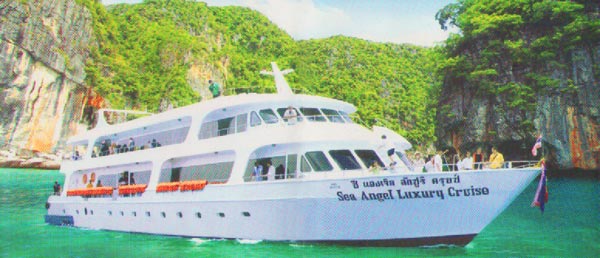 Phi Phi Island (also called Pi Pi Island) lays 42km south east of Phuket. Phi Phi is the top of the list for Tour attactions in Phuket and should be included on yours. It is a popular destination for day trips or tours, as well as a romantic few days away from the bustle.
Remember to take Sun Glasses, Sun Block, Insect Repellant, a change of clothes, towel, camera with spare batteries. Transport to and from your hotel is provided. Lunch is also seved as part of the package.
This tour offered is by Big Boat, or ferry. The ferry travels twice daily and does not include any extras, just the journey. I recomend the big boat, its comfortable, roomy, and provides a chance to meet and chat with fellow travellers from all over the world. The speed boat is noisy and tends to hit the waves making it very uncomfortable.
Day Tour Timings
07.00 - 07.15 am Hotel Pick up and driven to Sea Angel Pier.
08.30 am. Depart Phuket pier for Ton Sai Pier. Complimentary tea, coffee and dessert service.
09.50 am Arrive at Phi Phi Don
10.00 am. High Season, Snorkeling and swimming at Monkey Bay, sightseeing at Bida Island, Loh Samah Bay, Pileh Cove, and Viking Cave.
10.00 am. Low Season, Sightseing around Phi Phi Lay Is, sightseeing at Bida Island, Loh Samah Bay, Pileh Cove, and Viking Cave. Swimming and snorkeling at Ton Sai Bay and Monkey Beach.
12.30 pm. Lunch and explore Phi Phi.
02.30 pm. Depart Phi Phi Island
04.30 pm. Arrive at Sea Angel Pier and transfer to your hotel.
Day Tour Activities
WHAT TO TAKE


SUNGLASSES
SUNSCREEN
INSECT REPELLANT
CAMERA
BATTERIES
TOWEL
SHORTS AND TSHIRT
SOME MONEY
Maya Bay ~ Romantic Interlude